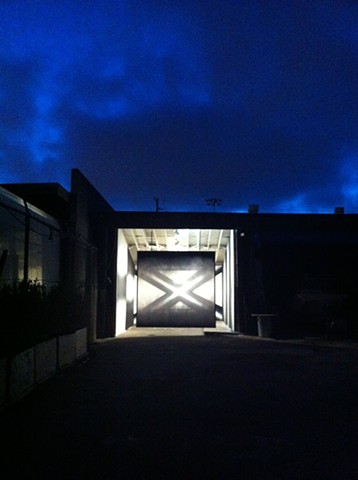 :::S.H.E.D. projects:::West Oakland:::
:::Kara Vaggio does Sol LeWitt:::
Site-Specific Installation
2013
Kara Vaggio Does Sol LeWitt was a site-specific installation at S.H.E.D. projects in West Oakland California August 2-12th, 2013.
KVDSLW was three 9x12 foot wall-works as well as a 9x9 foot painted "light box" wall enclosing / unifying the space as one light sculpture. This was the first time the S.H.E.D. Projects exhibition space was utilized as a singular large-scale sculptural work.
Vaggio documented the process of making the work which appeared on YouTube as a short video-trailer for the promotion of the exhibition.
For this exhibition, Vaggio worked from a book cataloging a specific body of work by Sol LeWitt titled "Wall Scribbles." The text in the Pace book (a gift) describes "Wall Scribbles" as a formalized geometric system hybridized with the illusionistic painting technique of "chiaroscuro."
As part of the closing of the piece before it was destroyed, on August 10 at 7 pm, singer/songwriter, Joel Robinow performed a live re-creation of John Baldessari's 1970's film "Baldessari sings Sol Lewitt." Where he sang, live, inside the installation, "50 Notes on Conceptual Art," written by Sol LeWitt.